---
The Nicholas Center for Autism
Cordially invites you to
Americana Manhasset
December 4th 2013
5PM-8PM
to kickoff the Holiday Shopping Season during a special shopping event
CHAMPIONS FOR CHARITY
Live Jazz, Wonderful Hors d'oeuvres and Cocktails
This is a STAND ALONE EVENT that is occurring the DAY BEFORE the regular Champions for Charity Event!
The Americana will activate your Champions Card for purchases at Brooks Brothers on Dec 4th
PLEASE REGISTER FOR YOUR COMPLIMENTARY CHAMPION CARD
IN SUPPORT OF The Nicholas Center for Autism
You can register your card starting October 1st 2013
2. BY PHONE: 1.800.818.6767
3. In Person at the Concierge Store @ The Americana Manhasset
PLEASE SELECT The Nicholas Center for Autism
when registering your Charity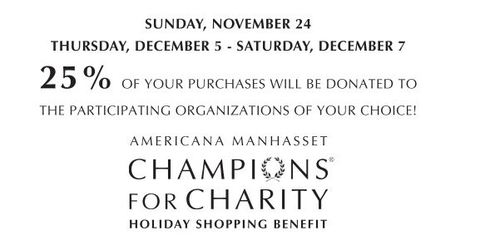 Help support our organization by doing your holiday shopping at participating Americana Manhasset and select Wheatley Plaza* stores on Sunday, November 24 and Thursday, December 5 to Saturday, December 7 during shopping center hours.

Select our organization when registering for your CHAMPION CARD. Champions for Charity® is a holiday shopping benefit where 25% of your full-price pre-tax purchase will be donated to those charities you select. Your purchases are not automatically eligible. your champion card is required to allocate your donation and must be presented at the time of each purchase.

To register for your complimentary champion card and for more information about Champions for Charity® visit championsforcharity.org, call 516.627.2277 or visit Americana Manhasset's concierge store

.




Prada • Louis Vuitton • Fendi • J. Mendel • Hirshleifers • Dior • Hermès • Gucci Giorgio Armani • Jimmy Choo • alice + olivia • Max Mara • Donna Karan New York • Burberry • London Jewelers Chrome Hearts • Bottega Veneta • London Jewelers Watch Salon • Hirshleifers Shoe Salon • Ilori • Tory Burch Chanel • Toku Modern Asian • Vince • Ermenegildo Zegna • Etro • Van Cleef & Arpels • Theory • Tiffany & Co. Salvatore Ferragamo • David Yurman • Cartier • Beauty Bar • Brooks Brothers • CH Carolina Herrera • Wolford Hugo Boss • Tom Ford • Chanel Fine Jewelry • J.Crew • Anne Fontaine • Morgenthal Frederics • Brunello Cucinelli TWO by London • Cipollini Trattoria & Bar • Cipollini Pronto Caffe • Banana Republic • Sneakerology • Exit 36 Oscar de la Renta • Juicy Couture • The Mens Market at Hirshleifers • Coach • Lacoste • Ann Taylor • Leggiadro Loro Piana • Hirshleifers ETC • Ralph Lauren • Vince Camuto • St. John • Michael Kors • Vilebrequin • Intermix *Select Wheatley Plaza stores will be participating. Visit championsforcharity.org for details. Americana Manhasset GiftCards purchased during Champions for Charity® are eligible for a 10% donation. Americana Manhasset GiftCards purchased AND redeemed during Champions for Charity® are eligible for a 25% total donation. Participating store gift certificates and special order merchandise are subject to individual store policy. AMERICANA MANHASSET Wheatley Plaza ®

© 2 0 1 3 C A S T A G N A R E A L T Y C O . , I N C . ®






---
SAVE THE DATE!
Luck of the Irish Casino Night
to support Spectrum Designs Foundation
Thursday March 13, 2014
Hosted by Loren King
410 Main Street Port Washington NY
7pm-11pm
Enjoy Open Bar, Grazing Cocktail Menu, Dancing and Gaming!
Try your luck in Craps, Texas Hold Em Poker, Blackjack and Roulette
GREAT PRIZES!
More Details to Follow
---
Past Events

Thank you to the lovely ladies at ENTREE on Main Street in Port Washington New York!
For hosting a Shopping Event in SUpport of Spectrum!
Spectrum Design's Night in White 2013!
Sold Out Summer Benefit Raises over $100,000!
Honoring John & Amy Beyer
MC for the Evening :Ellen Karis "The Greek Goddess of Comedy"
Thank you to All Our Sponsors and Event Committee!
Night in White 2013
Thank you to Our Sponsors
"Your Contributions Have Touched The Lives of Many"

F. Scott Fitzgerald Sponsor
Shawn & Robert Gladstone
Glitz & Glamour Sponsors
Marshall & Pauline Brown, LVMH
Brian & Laura Hull
Kenneth & Sandra Kuska
Michael & Jodi Schwalb
Cocktail Sponsor
Men on the Move
Video Sponsor
Lori & Steve Scrobe
Photobooth Sponsor
The Prounis Family
Decoration Sponsor
Shawn & Robert Gladstone
Invitation Sponsor
Cheri & Dan Serota
Auction Sponsors
Celebrity Moving
Minuteman Press of Bellerose
PLEASE SEE OUR JOURNAL BOOK FOR A LISTING OF ALL OUR
CONTRIBUTORS & GENEROUS DONORS
We sincerely appreciate the generosity of our supporters,
and do our best to recognize all gifts.
We apologize for any omissions or errors in our acknowledgements.
EVENT COMMITTEE 2013

This evening would not have been possible without the dedication and commitment
of the following individuals:
Lauren Beyer
Maria Botsaris
Deborah Bowman
Susan & Dominick Cuoccio
Anna & David Einbund
Ilene & Ben Fishbein
Roxanne Fitzig
Kristine Fitzpatrick
Laura Genova
Nina Mogilnik & Leonard Gold
Star Anthony & Larry Greenstein
Loren & Wayne King
Angie & John Lazaridis
Marie Pellegrino
Kathy Madison
Mary & James Murtha
Wendy & Fred Penzel
Marie & Mitch Pinckney
Helene Ramer
Ann Ruggiere
Dr. MaryAnn Schaefer
Lori & Steven Scrobe
THE ENTIRE STAFF AT SPECTRUM DESIGNS FOUNDATION
All Our Evening's Sponsors, Attendees and Volunteers
---
Tuesday, April 30, 2013 ,
7 PM
Spectrum's 2nd Location
Ribbon Cutting Ceremony
March 2013
Thank you to all who joined us at our
ST. PATTY'S DAY BENEFIT BASH!!!!!
Event Chair Loren King
Live Music by "Deep River Band"
MC for the Evening: Ellen Karis "The Greek Goddess of Comedy"
Thanks
to our Sponsors 100% of the Proceeds from this event go to our cause!
$5000

Pot of Gold Event Sponsor
Patrick McCarthy (McCarthy - Carbone PC)
& The Michael McCarthy Foundation
$1500
Beverage Sponsor
Friends of Spectrum Designs

$1000
Shamrock Sponsor
Michael & Charlene Prounis
Lucky Leprechaun Sponsors
Cuoccio & Dragone Families
Lori & Steven Scrobe
Friends of Spectrum Designs
December 2012
Thank you to all who attended our THEORY shopping event during Champions for Charity and all who shopped with our cause in mind!
Happy Holidays!
October 2012
Thank you to all who supported our 2nd annual Band Aid for Autism
on October 5th in Long Beach! We had a ROCKIN' time supporting Gainful Employment of individuals with Autism, while celebrating special educators and the hard work they put forth everyday!
Click here for photos!

Thank you to our generous sponsors!
Annette Lagan
Christine MacPhearson & The Butterfly Mission
Diane and Steven Olmsted
Diane and Jeff Soloman



July 2012

---
Thank you for joining Us!
at our 2nd Annual - Night in White Summer Soiree'

Honoring the Outstanding Contributions of
Bea Huste-Petersen & The EJ Autism Foundation

Held on July 27th, 2012 at The Shelter Rock Tennis Club
Manhasset NY

Sponsors

Loren & Wayne King
Steve and Lori Scrobe
-
John and Amy Beyer/Men on the Move
EJ Autism Foundation
Charlene and Michael Prounis
Deborah & John Bowman
-
Martha Pusey
Joseph & Barri Savasta
Howard & Deborah Siegel
Shawn & Robert Gladstone
Caryn & Christopher Pusey
Debra & Anthony Celebre
Michael & Ann Marie Mazzei


Click here for Photos
May 2012
---
Spectrum Climbs Kilimanjaro! "Climb for a Cause" Event

Thank you to all who supported this event!
A 9 Day expedition, covering 35 miles, to the highest point of Africa bringing awareness to the capabilities of individuals with Autism.
As Featured in The Long Islander News
Read More here
Click here for Pictures
---


"Strength in Unity"
Thank you SYNERGY Fitness Gyms for supporting Spectrum! What a Great Time had by all!

CLICK HERE FOR PICTURES
April 2012

---
Thank you to all who participated in Lucille Roberts of Commack's Zumba thon!
Click here for Photos
March 2012

---
Saturday March 17, 2012 St Patrick's Day Celebration!
SPECTRUM Turned 1! /Nicole's Birthday too!(Our Co-Founder)

Thank you to all who joined us for the music and Traditional Irish yummies ! We had an AMAZING time Celebrating Spectrum's FIRST BIRTHDAY!
SEE PHOTOS HERE!
December 2011

---
The THEORY AMERICANA Manhasset Shopping Event was LOVELY!
Live Music, Charitable Sales and Appetizers Donated by WILD HONEY on Main
See Photos Here From Theory Event!
Thank you to all who attended the Holiday Cheer and Charity event!
Click Here for Photos
October 2011

---
Thank you to all who came to The Grand Opening Ceremony!
Please see the Gallery of Photos from the event
HERE
.



September 2011

---

BAND AID for Autism 2011 Long Beach NY

A Live Music Benefit, Saluting the Professionals that ROCK!
See our Gallery
Here
.
August 2011

---
Nicholas Center for Autism & Spectrum Designs acquires a home on Main Street in Port Washington NY!
We are proud to announce our NEW HOME! 416 Main Street In Port Washington! We have a view of the Harbor and we cannot wait to show you around at our RIBBON CUTTING scheduled for Thursday October 27 at 6:00PM! Check out the gallery
HERE.
July 2011

---
Surf For All Benefit in Long Beach New York
We were so touched to be part of this event! Spectrum was asked to provide the shirts for this amazing event! See Gallery
Here.
June 2011

---
A Night in White Soiree - A Brilliant Success!

Please See the Rest of Our Pictures HERE

A HUGE Thank you to our Sponsors , Contributors and Guests.
With your help we raised over $26,000 in support of Spectrum Designs Foundation! This evening was a tribute to our CEO and Co Founder, Stella Spanakos' husband, Paul Kitsos, a large supporter
of Autism causes who passed away suddenly on June 7 2010.
Clad in their white attire, our 150 guests enjoyed a spectacular
dining experience at the Shelter Rock Tennis Club, a THEORY Fashion Showcase with professional models, as well as glimpse of Spectrums very own apparel line. Our attendees danced the night away to a Live music which brought us through a generation of music from the 60's to now! Spectrum Designs, is an innovative program supported by the Nicholas Center for Autism offering gainful employment and meaningful vocational experiences in a supportive environment. While teaching the trade of apparel decorating, our participants and employees produce exceptional products for the community while generating it's own income to support its efforts. With each contribution and order, you help support individuals with Autism and similar conditions ! Thank you for your support!

May 2011

---
Long Beach Middle School raises enough money from their bake sale for the students of the ASD class to go on a special field trip. Don't they look SWEET in their Spectrum Designs T Shirts!
April 2011

---
Spectrum Designs Foundation, presented with a Proclaimation from Nassau Country Executive Ed Mangano during Light the Night Blue Event in Mineola.
Manhasset sells over $1700 in their customized Manhasset Autism Awareness tees! See more photos of their trip to Spectrum in our
Gallery!

March 2011

---
Our St. Patrick Day Gathering was a huge success! We raised over $700 in just 2 hours! Our guests feasted on the St. Pats tradition of Corned Beef and Cabbage, thanks to the Whales Tale in Long Beach NY!
Thank you to all who came out!
---